Ancient Rome was a once prosperous civilization that lasted from approximately 27 BC to 476 AD (1453 AD for the eastern empire).
Geography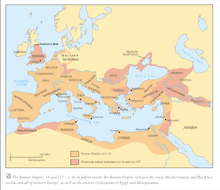 The Roman empire completely surrounded the Mediterranean sea. They conquered many empires such as the Egyptians, Phoenicians, Carthage, Greeks, Babylonians and the Anglo-Saxons.
Wars
Major Wars
Carthage war.
Battle of Cynoscephalae.
Third Servile war.
Battle of Actium.
Minor Wars
1st, 2nd and 3rd punic wars.
Caesar's civil war.
Religion
The ancient Romans were pagans who had similar Gods to the Greeks. They had many Gods and Godesses (some of which incuded Neptune, Jupiter & Mars). They were pagan until Emperor Constantine rose to power and converted the Empire to be Roman Catholic.
Major Dynasties
Julio-Claudio Dynasty (27 BC - 68 AD):

Augustus
Tiberius
Caligula
Claudius
Nero
Technological Advancements
Mathematical Discoveries
Trivia
Ancient Rome was located in what is now Italy.
They conquered most of Europe.
They fell when the capital was moved from Rome to Constantinople. Then, the Barbarians of the North and East attacked.